Connecticut
Chapter 148
NAWCC

Al Comen, Pres.
phone: 203-378-4323 Cheryl A. Comen, Treasurer
409A Montauk Lane
Stratford, CT 06614
ccomen4chap148@sbcglobal.net Mary Jane Dapkus, Secretary
NEXT MEETING - March 17, 2018
Edmond Town Hall, 45 Main Street, Newtown, CT, 8:30 AM. Table holders may set up at 8:00 AM. Please do not come before 8:30 if you do not have a table. Must be member of NAWCC (or guest) to attend. The usual refreshments of doughnuts, pastries, bagels, and beverages will be served.
Presentation: Tom Grimshaw and Dave Ewbank will present Show & Tell of strange and unusual clocks.
Chapter 148 meets on the 3rd Saturday of odd months.
January, March, May, July, September and November
---
Meetings Past
November 18, 2017 Meeting Highlights
by Mary Jane Dapkus
Chapter 148 met on the morning of Saturday, November 18, 2017. Members and table holders swapped horological knowledge and ideas over an astonishingly wide range of subjects, while browsing the well stocked mart tables.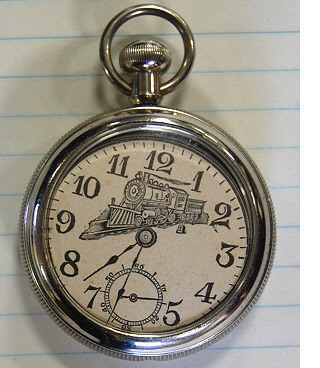 Chris Brooks brought along a wonderful "show & tell" item. At first glance, it appeared to be the empty case of a back-winding pocket watch dating to about 1900, but oddly, fitted with a paper railroad dial and hands (see photo). What was it? After clearly savoring the puzzlement it produced for a moment, Chris explained that the "watch" had probably been used as a target for an amusement park game. Although he wasn't sure offhand who its maker was, a small recess in the top of the case's crown was a distinctive feature that could be used in its identification. (Perhaps it was the product of either the New Haven, Ingersoll, or another watchmaking firm that made its own cases.) He also explained that "watches" of a similar vintage, also with nothing inside their cases, made by the Seth Thomas firm, were known, that were utilized for store window displays.
It was a special pleasure to visit with tableholders Jeff and Laura Bergman, and Bill and Marla Curley. Ian Roome shared recollections of the late Karl Barnathy, of Hazlett, MI, an expert tablet painter, and of Greg Gorton, who had laid much excellent groundwork on the history of the Seth Thomas Clock Co.
We learned that Greg McEldowney of Pine Plains, NY, a longtime NAWCC member and fixture at our chapter meetings, where he presided over his customary table, passed away after a lengthy illness. He will be greatly missed.
Many thanks to all our chapter officers and behind-the-scenes volunteers whose untiring efforts made the meetings we enjoyed so much in 2017 happen. Special thanks are due to Don and Carol Montory for printing and mailing our meeting notices, and to Ron Price for maintaining our website.
A very Happy, Healthy, New Year to all!
September 16, 2017 Meeting Highlights
by Mary Jane Dapkus
Chapter 148 met on the morning of Saturday, September 16, 2017. Turnout was very good, with a total of ninety-five members and friends in attendance.
We were saddened to learn that fellow member Jon Jacobi passed away unexpectedly on Tuesday, August 15, at the age of 64. Well known as a member of several NAWCC chapters, Jon was also a long time member and supporter of the American Clock & Watch Museum in Bristol, CT, where he served on the Board of Directors from 2009 to 2015. During that time Jon was an active member of the Museum's Personnel, Collections, Planning, and Buildings & Grounds committees. A fixture at his usual table at all of our meetings, Jon's home was on Long Island. His ready smile, enthusiasm, and helpfulness will be sorely missed.
Experienced collectors David Ewbank and Tom Grimshaw continued their outstanding presentation series, focusing on unusual and underappreciated early American clocks and clock-related items. Beginning the program with a miniature gingerbread mantle clock by E.N. Welch Co., Tom proceeded to amuse attendees , for example, with a seldom seen example of a full-sized "Arctic" model gingerbread clock by E. Ingraham & Co. He then unveiled an early New Haven Clock Co. slant-front schoolhouse clock, dating to the 1850s or '60s. Astonishingly, the clock had a black dial and radium hands and numerals! Another item featured in Tom's portion of the program was a peculiar miniature 8-day, time and striking miniature school house clock by the Waterbury Clock Co.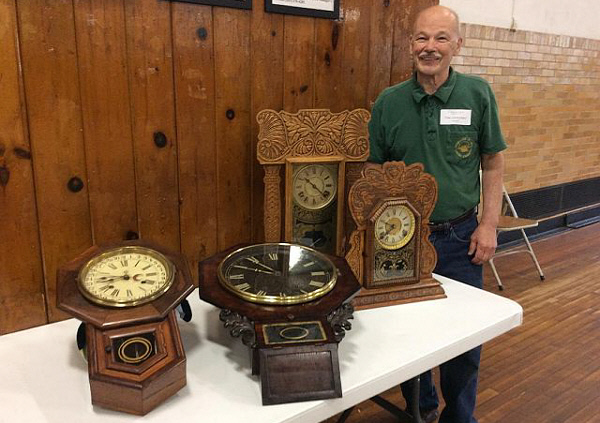 Tom Grimshaw and his clocks
Next, David had everyone stumped with his segment entitled, "When is a Clock Not a Clock?". Without spoiling the ending, his discovery dated to 1844, and was not at all what at first glance it appeared to be.
Many thanks are due to Tom, David, our chapter officers, and the many kind and thoughtful volunteers who worked very hard to make our meeting nothing short of extraordinary!
July 15, 2017 Meeting Highlights
by Mary Jane Dapkus
Chapter 148 met on the sunny Saturday morning of July 15, 2017. Our meetings continue to draw consistently high attendance levels.
The American Clock & Watch Museum, Bristol, CT, is preparing a new exhibit, entitled SCANDALS!, to coincide with its 2018 opening. Illustrated with objects drawn from its collections, the exhibit will present a number of newly discovered, eyebrow-raising stories about the objects' histories, many of which have not been previously published. This exposure to the "dark side" of the history of American clock and watch making is designed to provide an opportunity to experience different eras in American history, while presenting new information about the clocks and watches themselves.
Members shared repair advice and information. One member well-versed in such matters described a recent experience in cutting a new stem for an early Rolex wristwatch. Twice. The individual generously pointed out ways to avoid similar pitfalls.
Mart tables abounded with interesting items, and members and table holders freely exchanged knowledge over a broad spectrum of time periods and interests. For example, Joe and Kathy Kaddis generously helped attendees peruse and appreciate a turn-of-the 20th century French clock made to resemble an early American banjo timepiece; an Ansonia novelty clock; a "Lambert Meter" ca. 1901; and a gilded front Waterbury Clock Co. shelf clock ca. 1860, all found at their table, from artistic and technical perspectives (see below).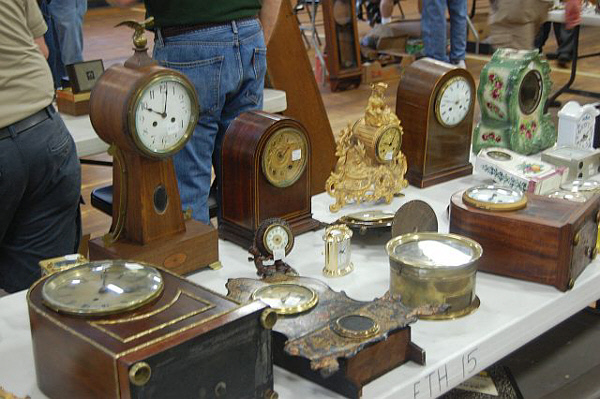 Chris Brooks shared his appreciation for key features of a nicely made vintage watch roller remover.
Thanks to all who helped make this meeting productive and enjoyable!
May 20, 2017 Meeting Highlights
by Mary Jane Dapkus
Chapter 148 convened on Saturday morning, May 20th. Our meeting featured mart, brunch, tableholder and attendee raffles, an educational program, and silent auction.
Our meetings provide valuable opportunities to draw on fellow members' experience and expertise. We sought and received assistance in assessing the age and possible replaced parts of several items, notably an unusual wood movement shelf clock in a Torrington-type pillar & scroll style case. Research on an empty early 19th century shelf clock case with the rare label of Joel N. Churchill, Bristol, Ct., is underway, with an eye toward finding an intact example to form the basis for the clock's appropriate restoration. Long-time repairer Fran Lyons contributed wisdom on organizing a home workshop.
The team of Tom Grimshaw and David Ewbank returned for a second installment of their popular presentation on historic but seldom seen American clocks. With a total of nearly 80 years of collecting experience between them, Tom and David drew from their own collections to illustrate the triumphs (and sometimes misfortunes), that shaped the present state of their knowledge.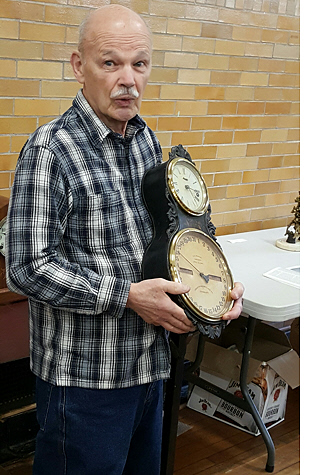 Among the treasures presented by Tom was a prototype Ithaca 8-day calendar clock with an 1865 movement patent date, and unusual features reflecting uncertainty as to whether the firm thought the movement would work. The Seth Thomas Clock Co. is not known to have used movements with brass springs ca. 1850, but Tom's clock has them. The movement was evidently obtained from Terry & Andrews, which firm had recently been acquired by Seth Thomas.
David's portion of the presentation centered around a group of unique skeleton clocks and timepieces dating ca. 1865-1891, produced by Rev. Benjamin C. Phelps (1810-1896) of Wethersfield, CT. A Methodist minister whose sideline was expert machining, Phelps served as the chaplain for the Connecticut State Prison in Wethersfield.
Tom and David are both well-known members of several Connecticut, New York, and New England NAWCC chapters, and of the Cog Counters chapter. We extend our hearty thanks to them for taking the time and effort to share their knowledge, and some of their most thought-provoking discoveries with us.
Thanks are also due to Chris Corveleyn for providing a photo of Tom Grimshaw to accompany this report.

March 18, 2017 Meeting Highlights
by Mary Jane Dapkus
Chapter 148 convened on Saturday morning, March 18th. The meeting was well-attended, and included a full array of mart tables laden with horological treasures to fit every budget and interest.
Our chapter is blessed with talented members who are willing to share their hard-earned experience and expertise. A wealth of information changed hands, for example, on replacing the veneer on Seth Thomas No. 2 regulators. It is likely that each of the eight-piece bezel sections on these clocks was covered with veneer before the sections were all glued together.
The American Clock & Watch Museum, Bristol, CT, is now open on Fridays, Saturdays, and Sundays during the winter season. We were pleased to learn that during the past winter, the Museum attracted well over 400 first-time visitors.
Members Tom Grimshaw and David Ewbank teamed to give a presentation on historic, seldom seen examples of clocks that altered the course of Connecticut clock making history. Drawing from their own collections to illustrate, we were guided on an extraordinary journey.
Chronologically, the presentation began with a Benjamin Cheney-type wooden tall clock movement, ca. 1745-1790s, with a brass dial and hand-sawn gear teeth. Next Tom and David introduced us to Eli Terry's pre-Porter Contract wooden tall clock movement. Mass produced in small batches ca. 1803-1805, one other known example is at the Smithsonian Institution. We were then treated to a comprehensive discussion of Porter Contract movements. The latter were unsigned, so Tom and David provided tips for positively identifying them.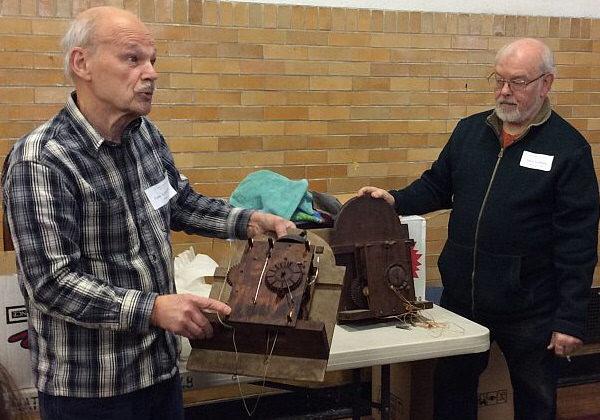 Picture: Tom Grimshaw (left, holding an Eli Terry, Porter Contract movement) and David Ewbank (right, holding a pre-Porter Contract Eli Terry movement)
Jumping ahead to the 1820s, we took an in-depth look at Chauncey Jerome's invention of the bronze looking glass clock, likely in 1825; a unique, very early example, bearing the label of Jerome, Darrow & Co., was in the room. Shelf clocks with thin plate wood movements came next, followed by movements with coiled brass springs that were the contemporaries of the more commonly seen 8-day strap brass versions in triple decker cases. Tom and David walked us through the earliest versions of Noble Jerome's patent 30-hr. stamped brass movements, followed by the earliest ogee-style shelf clocks.
Tom and David are long-time collectors and students of American clock making, well-known in chapter circles. They found a most appreciate audience at our meeting. We extend our sincere thanks to them for their time and efforts to cooperatively share their knowledge--and some of their very remarkable discoveries!
January 21, 2017 Meeting Highlights
by Mary Jane Dapkus
Chapter 148 held its first meeting of the New Year on Saturday, January 21. The meeting was well-attended, and mart tables sold out.
Items spotted at the mart included a vintage Brigg's rotary clock, a Mission-style shelf clock in original finish, and a Gilbert Clock Co. tape measure clock. An empty Seth Thomas case that once held a marine movement, bore period tags, one of which indicated a U.S. military supply origin. The other was marked "Pearl Harbor 6/6/1945" (see accompanying photo; the date of Japan's attack on Pearl Harbor was Dec. 7, 1941.) The case had a history connecting it with the firm of Max Lowe & Co. of New York City, where it had been sent for reuse or recycling in the massive industrial buildup that coincided with our nation's entry into WWII.
Chapter officers reported a gain of several new members. We learned that member David Follett (NY) has been seriously ill, but is thankfully now on the mend.
Strempel's Clocks of Deep River, CT is looking for one or more clock repair apprentices. The NAWCC's 2019 National will take place in Springfield, MA. Area volunteers will be needed.
Mike Graham (NY) reported on the recently completed restoration of Vassar College's historic chronograph. A detailed writeup is in preparation.
Chris Corveleyn brought an album containing some excellent photos he took at NAWCC's recent Seminar (held at the Winterthur Museum in Delaware, October 2016), graciously sharing his recollections. We were grateful for the chance to experience Winterthur's fine clocks through Chris's thoughtful and observant eyes.